Bishamon EZ Loaders
Ergonomic palletizing of products coming off an assembly or packaging line make quick work for
Bishamon EZ Loaders. Pallet positioners save your back and make the job easier. Bishamon EZ Loaders offer
a unique pneumatic solution to difficult loading and unloading applications.
Toll Free 800-352-0272
Fax 800-353-3681
"Servicing America's Equipment needs Coast to Coast"

Phone: 800-352-0272 Fax: 800-353-3681

equipmentandsupply.com

Bishamon EZ Loaders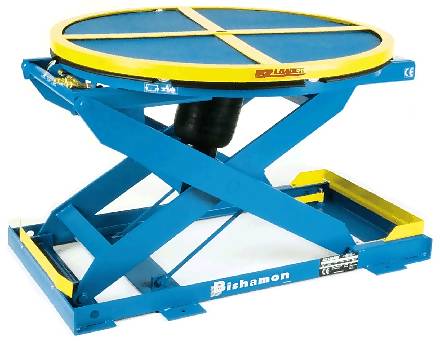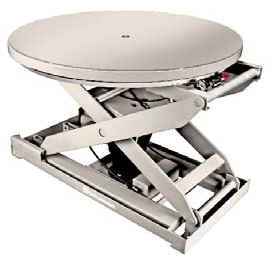 Standard EZ Loader Stainless EZ Loader Model

EZ LOADER PALLET POSITIONERS
The new EZ Loader now handles loads from a minimum self leveling weight of 250 lbs. up to a maximum self-leveling weight
of 3,500 lbs. with a maximum load weight of 4,000 lbs. To make it even better, we added a three position adjustability knob that
allows adjustment of the collapsed capacity without changing the air pressure! EZ Loaders are designed to eliminate worker
bending by automatically raising and lowering pallets during loading or unloading without the use of mechanical springs,
motors or hydraulics. EZ Loaders also allow easy pallet rotation for near-side loading so the worker does not have to reach or strain.
As the load weight changes, the EZ loader automatically adjusts keeping the top of the load at a convenient working height.
The patented pneumatic system found only on the EZ Loader has proven to be the choice of industry professionals worldwide.
Model
Travel
Capacity
Self Leveling Capacity Range
Lowered
Ht.

Raised
Ht.

Ship
Wt.
Price
1 - 3 units
Price
4 or more
EZ Loader
20"
4,000#
250 - 3,500#
10.5"
30.5"
500#
$ 2,477
Call
EZ Loader-E
20"
4,000#
250 - 3,500#
10.5"
30.5"
500#
$ 4214
Call
EZ Loader-SS
20"
4,000#
250 - 3,500#
10.5"
30.5"
500#
$10,438.40
Call

Standard Finish of EZ Loaders:
EZ Loader = standard powder coated finish
EZ Loader-E = FDA compliant powder coated finish with stainless steel solid round top
EZ Loader-SS = 304 Stainless steel with an electro-polished finish
Accessories

Bellows Skirting
with frame
(Part #EZ-ABS)

$ 696.00

Semi Live Portability Kit
includes handle and 2 casters
(Part #EZ-SLP)

$ 580.00
Other Optional Accessories
Part Number
Price
Rotator ring brake to prevent rotation
EZ-BRK
$ 142.00
Cart Portability Kit - (2) swivel casters and (2) rigid casters
(7" add to Lowered Ht.)
EZ-CART
$ 770.00
Solid 43" diameter round top
EZ-SRT
$ 139.00
Oversize rectangular rotating platform (44" x 44")
EZ-4444
$ 450.00
Oversize rectangular rotating platform (44" x 48")
EZ-4448
$ 450.00
Oversize rectangular rotating platform (48" x 48")
EZ-4848
$ 450.00
Solid 43" diameter round top with 90 degree detents
EZ-SRT-DNT
$ 450.00
Oversize rectangular rotating platform (44" x 44")
EZ-4444-DNT
$ 658.00
Oversize rectangular rotating platform (44" x 48")
EZ-4448-DNT
$ 658.00
Oversize rectangular rotating platform (48" x 48")
EZ-4848-DNT
$ 658.00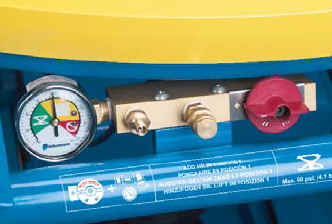 Pressure Gauge & EZ Adjust Knob

Standard Features:
• Self leveling design automatically keeps the top of the load at a convenient working height to help
eliminate bending and improve productivity
• Integral rotator ring helps eliminate reaching and stretching
• Captive air operation eliminates cumbersome mechanical springs and gives more controlled
(dampened) movement of the platform
• A three position EZ Adjust knob allows adjustment of the collapsed capacity without changing air pressure
• Secured ball bearing center pivot of the 43" diameter rotator ring provides smooth, even rotation
• Pressure relief valve prevents excess pressure build-up
• Surfaces are phosphatized and powder coated with a high quality polyester for a lasting, durable finish
• Rollers are entrapped in the base frame and platform for added stability
• A safety finger guard eliminates pinch points with the rotator spoke and bearings
• Integral maintenance blocks
• EZ Loaders arrive at your facility fully assembled - just add air!
• Easily transported with a fork truck or via optional portability packages
• The EZ Loader is CE marked under the Machinery Directive (2006/42/EC)

Back to Bishamon Page
Back to Ergonomic Home Page
Home Page
Last updated 6/23/15
Copyright Equipment and Supply 2014