Autoquip Turn Tables
Autoquip has been a leader in Scissor Lift Material Handling Manufacturing for many years. Since its inception in 1947 Autoquip has grown by leaps and bounds.
Autoquip Turntables
The Series 35 turntable is designed to provide workers with the ability to rotate their work to them, rather than walking around it. Units come either manual or powered to efficiently pallet build-up and tear-down. When used with an Autoquip lift table, these products further enhance both ergonomic and labor saving benefits by reducing reaching, bending, twisting and walking associated with palletizing operations.
KEY FEATURES

· 1/2" thick steel platform with radius
corners
· Turned, ground, polished & hard-chromed
kingpin
· Sealed-for-life ball bearing rollers
· Bolt pin retainer with lifetime dry
lubricated bushings
· Rigid base frame with predrilled mounting
holes
· Minimum turntable size is 34" x 34"

BENEFITS

· Minimal deflection
· Maintenance-free bearings, no greasing
· Simple to relocate
· Increase production efficiency
· Enhanced safety
· Reduced worker-related fatigue

POWER SUPPLY


· The manual Series 35 Turntable is operated by hand.
· The Power Turntable is powered by a 1/4 hp, 115-230V/60 hz/ 1 ph motor. Controls are
not supplied as standard.

CUSTOM DESIGNS


A number of "customized" engineering plans are already on file for the SR Series. Additionally, Autoquip offers computerized engineering services for development of "one-of-a-kind" manual and powered turntable applications.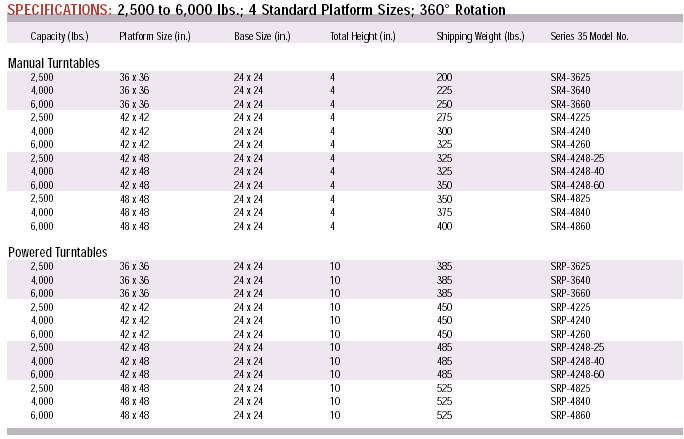 Back to Autoquip Page
Back to Ergonomics Page
Home Page

Copyright Equipment and Supply 2009