Bishamon Mobile Lift Tables
Bishamon MobiLift scissor lift tables are rugged industrial lift tables with push-bars and casters.
BX Series lift tables provide improved ergonomics by placing the load at a convenient work height
while providing the mobility to locate the lift where it is needed.
Mobile Lift Tables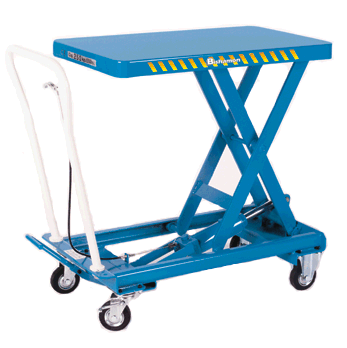 MobiLift™ tables are available in various capacities and travels to satisfy a wide variety of applications.
The manual foot pump models have an integrated hydraulic pump/cylinder assembly. The MobiLift™ scissor
lift tables add the value of mobility to the hydraulic lift table concept. Exceptional functionality and maneuverability is apparent,
whether loaded or empty. In addition, rugged construction and premium-quality hydraulics complement their ease of use with low maintenance.

Operation:
The MobiLift™ design allows workers to easily move and position loads to a convenient working height. By minimizing
undesirable lifting, reaching and stretching, MobiLifts increase productivity and decrease workplace injuries.

Applications:
MobiLift™ tables are used in a wide variety of applications. From stocking shelves in retail stores to lifting and
moving materials in libraries, nurseries, machine shops and manufacturing operations, MobiLifts improve productivity.
Model
Travel
Inches
Capacity
Platform Height
Min Max
Platform Size
Overall Size
Strokes to Max Ht
Wt
Price
BX-15
20.4
330#
8.4"
28.8"
17.7" x 27.6"
17.7" x 33.6" x 31.3"
15
75
$ 699
BX-25
22.7
660#
11.3"
34.1"
19.7" x 32"
19.7" x 39.7" x 35.3"
25
200
$ 868
BX-50
22.1
1100#
17.2"
39.3"
20.4" x 39.8"
20.5" x 46.9" x 37.8"
50
300
$ 1187
BX-75
22.1
1,760#
17.2"
39.3"
20.4" x 39.8"
20.5" x 49.5" x37.8"
67
300
$ 1342
Double Scissor Models
BX-30S
45.1
660#
17.0"
62.1"
20.4" x 39.8"
20.5" x 49.5" x 37.8"
64
340
$ 1574
BX-50S
23.0
1,100#
16.5"
39.5"
18.1" x 25.6"
18.1" x 37.2" x 37.0"
66
275
$ 2079
BX-50W
45.1
1,100#
17.0"
62.1"
20.4" x 39.8"
20.5" x 49.5" x 37.8"
90
380
$ 2139


Standard Features:
• Heavy-duty construction with captured scissor rollers for maximum stability
• Superior hydraulic systems feature an integrated pump-cylinder for maximum reliability
• High quality casters and wheels for exceptional rollability
• Foot actuated caster brake
• Lowering control automatically stops when released for added safety
• Convenient maintenance pins secure the scissor legs for inspection and maintenance
• Quality powder coated finish provides exceptional durability and corrosion resistance

Back to Bishamon Page
Back to Ergonomic Home Page
Home Page
Last updated 6/23/15 Copyright Equipment and Supply 2014