LK Series - Bishamon Lift Tables
Lift2K, Lift3K, and Lift5K are the backbone of the Bishamon Scissor Lift Lineup.
They are the best value 2000#, 3,000#, and 5,000# capacity lift tables on the market.
Bishamon's Lift2K, Lift3K, and Lift5K lift more for less. They are designed to increase productivity and reduce worker strain.
By lifting and accurately position the load, they eliminate unproductive lifting and stretching that ultimately
leads to worker fatigue, injuries, and product damage.
They have a maximum lifting height of 38.5 in. with platform sizes of 28 x 48 and 36 x 48 in.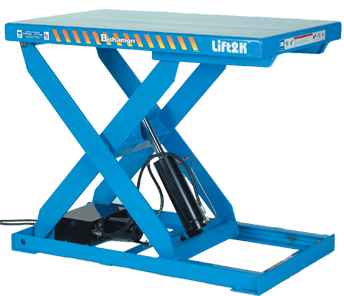 Standard Features
• Complies with ANSI standards for
lift tables
• Heavy duty hand control rated for 115volt
operation
• Flow limiting valve at each cylinder
• Available in 115V 1ph.
• 3" bore cylinder provided low pressure
operation


• Hinged maintenance catches
painted safety yellow
• Entrapped scissor rollers for
increased stability
• Self-lubricating, maintenance free
bushings at all pivot points and
quality powder coated finish


Accessories
• Foot control
• Accordion bellows skirting
• 48 in. turntable top
• Semi-live or caster portability


Travel

Capacity

Platform

Height (in)

Up Speed

Down
Speed

Shipping

Price

Model

(in)

(lbs)

Size (in)

Lowered

Raised

(sec)

(sec)

Weight

2,000# Cap

30"

2,000

28 x 48

8.50

38.5

24

12

469.0
$ 2,280

30"

2,000

36 x 48

8.50

38.5

24

12
490.0
$ 2,344

L2K-TT

30"

2,000

43"dia.

11.50

41.5
24
12
540.0
$ 2,713

(turntable top)

3,000# Cap

L3K-2848
34"
3,000

28 x 48

8.63"
42.63"
25
12
530.0
$ 2,731
L3K-3648
34"
3,000

36 x 48

8.63"
42.63"
25
12
560.0
$ 2,810
L3K-TT
34"
3,000

43"dia.

11.75"
45.75"
25
12
680.0
$ 3,179
(turntable top)

5,000# Cap

L5K-3256
39.25"
5,000

32 x 56

8.75"
48"
50
24
730.0
$ 3,506
L5K-4872
39.25"
5,000

48 x 72

8.75"
48"
50
24
1030.0
$ 3,767
L5K-TT
39.25"
5,000

43"dia.

11.87"
51.12"
50
24
870.0
$ 4,076
(turntable top)
Options:
Bellows Safety Skirting - Accordion bellow skirting
Call
Portability Package - Semi-Live portability - with 2 wheels and dolly - (unit unloaded)
Call
Foot control - foot control switch with guard
Call


Back to Bishamon Page
Back to Ergonomic Home Page
Home Page

Last updated 6/23/15 Copyright Equipment and Supply 2014