Cylinder Storage Racks - Cylinder Storage Cabinets
Saf-T-Stor Galvanized Cylinder Storage Cabinets provide efficient, compact tank storage.
Galvanized rust-resistant finish stands up to harsh indoor and outdoor environments.
"Servicing America's Equipment Needs Coast to Coast"



Toll Free 800-352-0272 Fax 800-353-3681



Order Form
Contact Us
OSHA-Approved Saf-T-StorTM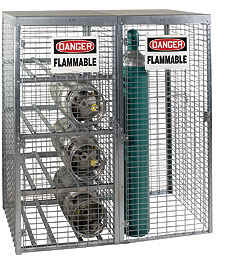 Loose Tanks Are OSHA Violations
Extra tough Saf-T-StorTM Cabinets provide an efficient storage solution for cylinder tanks while protecting them from damage and theft.
Panels 8-gauge galvanized welded wire mesh with 1-1/2"x 3" nominal openings. Frame 14-gauge galvanized steel 1-1/2"square
angle. Door 8-gauge galvanized welded wire mesh with 3" openings. Steel butt hinges. Padlock hasp included. Roof 12-gauge
galvanized steel sloping roof. Shelves 12-gauge galvanized steel c-channel designed to accept standard cylinders.
OSHA and NFP approved Cabinets exceed OSHA 1910.110 requirements and NFP standard 58-79. OSHA
approved "Danger Flammable Material" sign included. Installation All hardware furnished. Components are slotted for
easy assembly with common hand tools. Finish Galvanized. Options Powder coating available. Custom sizes Saf-T-Stor Cabinets
can be made to your specifications.
Durable 12 gauge galvanized steel roof. Features a padlock hasp (padlock not included) for security,
and a "Danger Flammable Materials" sign and all necessary hardware.

Exceeds OSHA 1910.110 requirements and NFP standard #58-79. Easy assembly.
This item shipped Knocked Down (KD) to save on shipping cost.

Galvanized Cylinder Safety Cabinets - Folding Guard


SAF-T-10

SAF-T-20

SAF-T-8

SAF-T-16

SAF-T-COMBO

Vertical Cylinder Storage
Horizontal Cylinder Storage
Combo Unit
Saf-T-10
holds 9 upright cylinders.
29"w x 29"d x 66"h
100 lbs
Price each
$ 334.32

Saf-T-20
holds 18 upright cylinders.


58"w x 29"d x 66"h
180 lbs
Price each
$ 552.00
Saf-T-8
holds 8 propane cylinders.
29"w x 29"d x 66"h
130 lbs
Price each
$ 430.20

Saf-T-16
holds 16 propane cylinders.


58"w x 29"d x 66"h
240 lbs
Price each
$ 725.00
Saf-T-Combo
holds 9 upright cylinders
hold 8 horizontal
58"w x 29"d x 66"h
210 lbs
Price each
$ 632.35



Back to Home Page

Last updated 6/23/15 Folding Guard
Copyright Equipment and Supply Central 2013