MobileLift Pallet Jacks
The I-55 pallet jack features a high quality German design pump for long life and easy field servicing. Durable, versatile and easy to use the
I-55 features an ergonomic design that reduces operator fatigue and downtime. The I-55 features a powder coat finish, robotic welds throughout, and grease fittings at all pivot points for easy maintenance.
MobileLift Pallet Jacks

ECO I-55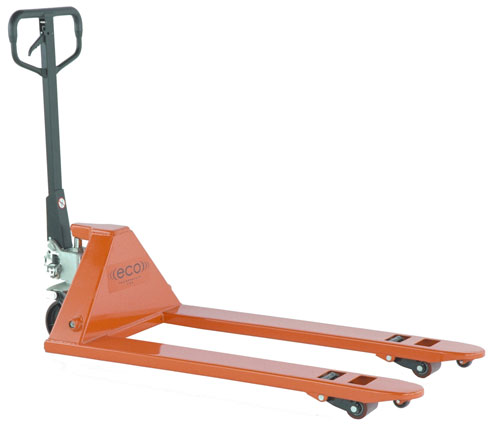 The I-55 Pallet Truck features a quality German
design pump for long life and easy field servicing. A 200 degree handle pivot provides
exceptional maneuverability in compact areas and comes with standard polyurethane
wheels and rollers for rolling ease. The I-55 features a powder coat finish, robotic welds
throughout, and grease fittings at all pivot points for easy maintenance

Price Each..................$ 402.90/ea
| | |
| --- | --- |
| Load Capacity: | 5,500 lbs. / 2500 kg |
| Fork Length: | 48" / 1220 mm |
| Overall Fork Widths: | 20.5" - 27"/ 521- 685 mm |
| Lowered Fork Height: | 2.9" / 75mm |
| Raised Fork Height: | 7.8" / 200mm |
| Fork Width: | 6.5" / 165mm |
| Weight: | 180 lbs. / 85 kgs. |
| Steer Wheel: | 7" / 180mm Polyurethane |
| Load Rollers: | 2.9" / 74 mm |
Back to Pallet Jacks

Last updated 6/24/15 - PFI
Copyright Equipment and Supply Central 2011