Bluff Manufacturing Steel Dock Boards
For over 25 years Bluff has manufactured quality steel dock boards.
Bluff Steel Dock Boards
We've got the selections and the inventory!! Stocked around the country
in 9 different warehouses.
We tell people all the time we've got the best prices on steel and aluminum boards,
they eventually believe us!

Shipping Points:
Atlanta, Ga.
Charlotte, N.C.
Fort Worth, Tx.



Hagerstown, MD.
Bay Area, Ca.
Los Angeles, Ca.
Seattle, Wa.

Shipping Points across America
to Save $$ on Freight.
No one offers the vast inventory of dock boards and dock plates at some many points across America at the most competitive prices ever!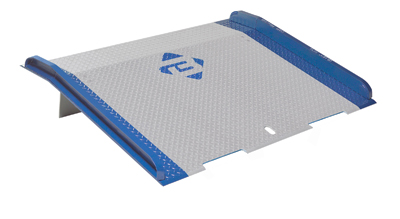 Speedy Board®
Fork cutouts are added to the leading edge of the board, allowing your driver the ability to "scoop" the board
and move it into place and to retrieve it for storage when the job is done. This work is all accomplished without the
driver leaving the safety of the forktruck cage.

This is a Non-Stock Board - But worth the Wait - 1 week Lead Time
Capacity
Size:
W x L
Weight

Price Each

10SB6030
10,000
60" x 30"
217
$ 567.70
10SB6036
10,000
60" x 36"
255
$ 636.15
10SB6048
10,000
60" x 48"
335
$ 768.75
10SB6060
10,000
60" x 60"
415
$ 903.10
10SB7236
10,000
72" x 36"
298
$ 843.30
10SB7248
10,000
72" x 48"
392
$ 992.35
10SB7260
10,000
72" x 60"
486
$1,144.90
13SB6036
13,000
60" x 36"
324
$ 730.60
13SB6048
13,000
60" x 48"
404
$ 883.15
13SB6060
13,000
60" x 60"
484
$ 1,038.30
13SB7236
13,000
72" x 36"
375
$ 893.55
13SB7242
13,000
72" x 42"
422
$ 922.15
13SB7248
13,000
72" x 48"
469
$1,053.90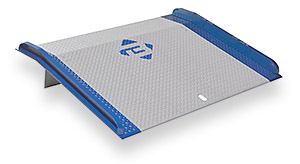 Steel - SC Series
Economical steel dock board with all welded steel curbs. This conventional design with standard 11" lip and fixed
lock legs is perfect for use in standard warehouse environment where occasional use does not call for high cycle,
high capacity use. 10,000# capacity for use with trucks up to 3,000#. 13,000# capacity for use with
trucks up to 4,000#. Lift chains standard. Usable width is overall width less 3 inches.
Refrigerated trailers require SCRL option (reefer lip).

In Stock selections
Capacity
Size:
W x L
Weight

Price Each

10SC6036
10,000
60" x 36"
207
$ 611.90
10SC6042
10,000
60" x 42"
297
$ 702.00
10SC6048
10,000
60" x 48"
335
$ 768.75
10SC6054
10,000
60" x 54"
376
$ 841.55
10SC6060
10,000
60" x 60"
345
$ 916.10
10SC7236
10,000
72" x 36"
298
$ 726.30
10SC7248
10,000
72" x 48"
392
$ 899.60
10SC7260
10,000
72" x 60"
486
$ 1,055.60
10SC7272
10,000
72" x 72"
595
$ 1,294.80
Last updated 3/2/18
Copyright Equipment and Supply Central 2011