Steel King Safety Guard Rail
Steel King guard rail protects your plant equipment and fixtures from accidental damages from fork lift and other powered equipment.
Protective guard rail is easy to install and relocate. Keep fork lift damage to a minimum using steel guard rail for a variety of applications
*** Pricing may change due to fluctuating steel prices ***
Steel Guard Protective Railing - Steel King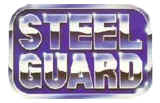 Protect your valuable assets: workers, machinery, rack or any area in which there is potential for damage; with Steel Guard protective railing.
Specially engineered for fork truck protection, Steel Guard is a pre-fabricated modular protective railing system that can
be expanded and relocated with ease. Mass production and easily installation make Steel Guard a cost effective safety solution.



In-Plant Offices
Mezzanines
Wire Partitions

Break Areas

Pedestrian Aisles
Traffic Lanes
Finished Goods
Water & Gas Mains
Conveyors
Racks & Shelving
Computer Controls
Ramps
Building Columns
Compressors
Loading Docks
Packaging Equipment

| | | | |
| --- | --- | --- | --- |
| Model Number | Description | Wt. Each | Price Each |
Back to Home Page
Steel King - Last updated 3/12/18
Copyright Equipment and Supply Central 2013