Storage Cabinets - General Purpose
Steel Storage Cabinets for shelved items needing to be stored behind doors fully enclosed
with secured entrance.
Recommendation:
These are our favorite Storage cabinets of all time. Premium quality all welded, fully setup, crated, and and ready to go. When people call and say "I want a good cabinet, not a cheap one", this is the cabinet we always recommend. We've yet to have a someone call and say it was a bad recommendation. For general application, all purpose storage, this is the cabinet!
Commercial Storage Cabinets - Premium Grade
Parent Metal - All Purpose 200# cap. shelf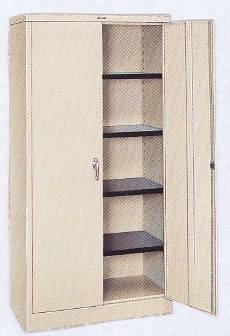 Features:

- All welded fully setup
- Full height piano hinges.
- Shelves 200# capacity.
- Adjustable on 2" centers.
- Full 1" thick reinforced doors.
- Ledge cornice top.
- Lock: three point locking device with
plated locking bars.
- Two handles on double door cabinets
(1 fixed, 1 locking, 2 keys)

- Colors: light gray, champagne, black

Please specify color.
Size
Model
No of Shelves
Wt. ea
Price each
36" x 18" x 42"
142-S
2
80.0
$249.65
36" x 24" x 42"
242-S
2
100.0
288.25
36" x 18" x 72"
172-S
4
145.0
296.05
36" x 24" x 72
272-S
4
165.0
377.30
36" x 18" x 78
178-S
4
155.0
342.00
36" x 24" x 78
278-S
4
175.0
404.95
Back to Storage Cabinets
Last updated 10/23/18
Copyright Equipment and Supply 2011