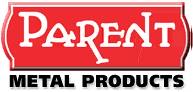 Features of
Strong Hold Storage Cabinets: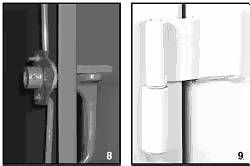 Handle and Hinge of Strong Hold Cabinet
Built to handle the toughest treatment
Standard Color is No# 10 dark Gray.
9 other color options at additional charge.

Color charts provided upon request.

Capacities of Shelves are based on evenly
Distributed Loads.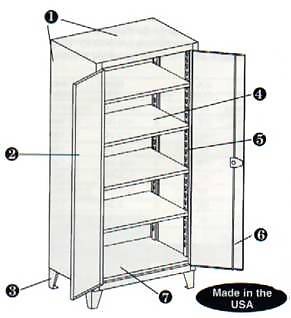 1 - Wrap around design, one piece body, 12-gauge steel.

2 - Two doors per cabinet, 12-gauge steel, 1" return flange, 200 degree swing, interlocking left hand door.

3 - 3/16" steel legs, provision for lagging, 6" sweep space.

4 - Adjustable shelves, 14-gauge steel.

5 - Shelves attached with 3/8" carriage bolts.

6 - Three-point locking device, 3/8" latch rod, 3/16" latch plate.

7 - Flush bottom - 12-gauge steel.

7 - Cast aluminum-bronze alloy handle, padlock tang, 3/8" angle receiver.

8 - 8-gauge hinge leaf, 5/16" brass hinge pin

The Goal

Strong Hold set out to design the ultimate industrial storage product. The vision was to manufacture a product capable of withstanding the treatment common to an industrial environment. Included in this vision was the need to securely store heavy tools and valuables. Strong Hold Products is the realization of this vision. Our storage cabinets, lockers, shop desks, and related products are the strongest, most secure in the marketplace.

The products can be found in manufacturing, warehousing, pharmaceutical, financial, and educational facilities throughout the U.S. Our determination doesn't stop here. We continue to meet the ever changing needs of the most important people we know, our customers!










About the Products
DURABLE - Strong Hold's production team is dedicated to providing the most durable cabinet available today. Twelve-gauge steel is sheared, formed, welded, steam-cleaned then electro-statically painted to produce a solid, strong and dependable cabinet. The product is designed to withstand years of industrial abuse and tough treatment.

FAST - Products are shipped completely assembled and ready to use. There is no lost time for shelf installation or setup.

ECONOMICAL - Our production methods allow us to pass savings on to you. Strong Hold cabinets are comparably priced to competing light gauge steel cabinets, yet provide a far superior, lasting product. There are no minimum order quantities.

SECURE - Our three point locking system is designed for a heavy padlock. This feature, along with our cast aluminum-bronze alloy handle, padlock tang, 3/8" angle receiver, and 8-gauge hinge, compliments the 12-gauge welded body design.