Yard Ramps and Loading Dock Ramps

Portable Loading Dock Ramps make unloading trucks easy.
Quickly unload freight where no dock access exists.
Mobile Yard Ramps facilitate unloading safely and efficiently.
Mobile Dock Ramp access is no longer a problem when a portable ramp is available.
High strength steel yard ramps make even the toughest unloading jobs easy!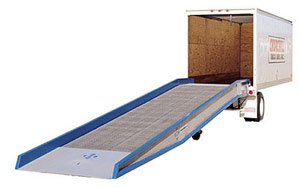 Steel Loading Ramps make loading and unloading a snap for
extra dock are requirements. Steel Yard Ramps are durable and
and cost effective options to constructing concrete poured structures.
Yardramps come in a variety of sizes and capacities to meet just
about any application.

Go to Mobile Yardramps
See the difference a mobile ramp can make in your operation!

equipmentandsupply.com

Phone: 800-352-0272 Fax: 800-353-3681
Equipment and Supply Central Copyright 2014