Yard Ramps and Loading Dock Ramps
Portable Loading Dock Ramps make unloading trucks easy. Quickly unload freight where no dock access exists.
Mobile Yard Ramps facilitate unloading safely and efficiently.
Dock access is no longer a problem when a portable ramp is available.
High strength steel yard ramps make even the toughest unloading jobs easy!
Yard Ramp - Portable Dock Access
The most Competitive Pricing Ever!!
On Mobile Yard Ramps


Take it with you when you move!!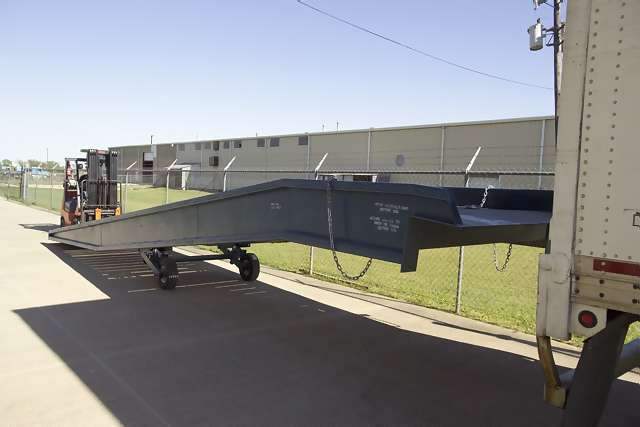 Convert Inaccessible Storage Locations into active Storage and Distribution Sites - Quick!

The Yard ramp is simply moved into position at trailers, railcars, or docks. The operator utilizes a self-contained,
double-acting hydraulic pump to adjust the unit to the proper position. In minutes you are ready to load or unload
freight. Solid 18" rubber tires provide easy positioning and towing. Open serrated steel grating provides
excellent traction while preventing build-up of snow, water, and other debris. Beveled approach provides
a smooth transition. For truck or railcar to ground applications choose a 36' unit including a level off.
Choose a 30' straight design for quick loading from dock to ground.
All steel welded construction

Capacities from 16,000 to 60,000 pounds

Wide range of capacities and sizes available

Solid rubber tires standard, pneumatic tires optional

Steel serrated grating

Double-action hydraulic pump

Move Your Yard Ramp
The optional rampclamp or tow bar assists operator in moving the Yardramp over short distances. Forklift tine inserts into the swiveling lift loop and is secured by a locking device.

Hydraulic Pump


Double-acting
Two hydraulic cylinders

The hydraulic system allows for smooth and quick raising of the front lip to the proper dock or trailer height. Simply open the release valve to safely lower the unit into position. The pump is mounted internally to protect it from accidental damage.

Undercarriage

Tubular steel box undercarriage assembly
18" solid rubber pneumatic profile tires

Heavy-duty wheels and solid rubber, pneumatic profile tires make positioning the Yardramp easy. For stationary dock installations, standard Yardramps are available in 30' and 36' lengths without wheel assemblies.


Standard safety chains hold Yardramp securely to the trailer or dock.

Click on a thumbnail above for enlargements
Types of Yard Ramps
Straight ­ 30' Length
This type is used primarily for ground to dock applications, where no Level off is required.
Level off ­ 36' Length
A six-foot Level off at the end of the ramp adds maneuverability for forklifts.
This allows forklifts easier turning access into railcars and allows them to handle pallets next to the door openings.
The 36' ramp is most popular where end-loading is required. Level off type is noted by the letter "L" following the model number.
Some Units in Stock For Quick Shipment
Capacity
Length
Width
Model Number
Weight

Price

16,000 lbs.
30'
70"
16 SYS 7030
4159 lbs.
30'
84"
16 SYS 8430
4964 lbs.

Call for
Pricing

36'
70"
16 SYS 7036L
5102 lbs.
36'
84"
16 SYS 8436L
5868 lbs.
Stock
20,000 lbs.
30'
70"
20 SYS 7030
4384 lbs.
30'
84"
20 SYS 8430
5189 lbs.
36'
70"
20 SYS 7036L
5327 lbs.
36'
84"
20 SYS 8436L
6048 lbs.
Stock
--Most Popular---
25,000 lbs.
30'
70"
25 SYS 7030
4780 lbs.
30'
84"
25 SYS 8430
5605 lbs.
36'
70"
25 SYS 7036L
5762 lbs.
36'
84"
25 SYS 8436L
6544 lbs.
Copyright Equipment and Supply Central 2014